Primary 4
Lesson 9: Enos Prays
Videos:
Chapter 11: Enos
Understanding Prayer—Darshan
Prayer—Yvonne
Prayer—Sue
Prayer and Conversion—Jennifer
President Monson talks about Prayer
Music:
A Child's Prayer
Tell Me, Dear Lord
I Pray in Faith
If with All Your Hearts
The Books in the Book of Mormon
Articles:
The Enos Experiment
Enos Repents
Scriptural Giants: Enos Prays
Prayer Is Reverent Communication between God and Me
Enos and the Power of Prayer:

What Other Special Helps Has Heavenly Father Given Me to Help Me Keep My Baptismal Covenants?
Enos's Prayer [The Book of Enos]
Praying Like Enos
A Mighty Change of Heart
Our Life-Changing Partnership with the Spirit
(ctrl f search "Enos"-the section on Enos is low in the article)
I understand the steps to repentance, but how do I know if I've been forgiven?
Handouts:
1) The first help I can give for this lesson is that children are unlikely to ask you questions about prayer. I think it is a valuable thing to have them thinking about questions that could be answered as you read about Enos even if they don't have questions. Here are a few questions you can bring up yourself and put on the board are (choosing 2 or 3 will be more than enough. If you choose them all it will be too much for the children to focus on):
How long do you have to pray?

How are prayers answered?

If I am quiet when I pray does Heavenly Father still hear me?

When can we pray?

Where can we pray?

What can we pray about?

Why do we pray?
Invite the children to raise their hand during the lesson if they think they can answer one of the questions on the board because of what they are learning in Enos' story.
2) Fill out this "Like Enos" handout.
3) Talk about who Enos prayed for. Draw circles like this one for the individual students and have the children write in who they can pray for. Read the article here for help.
4) Choose a few of the pictures in Enos' story to make a matching game. Chose 3 or 4 images in Enos' story. Copy/paste them into a Word Document and print twice on heavy paper. Cut them out and place them face down to make a matching game.
5) Play a prayer memory game:
6) Make a prayer slider to remind you how to pray:
7) Make a mobile:
8) Make a praying paper doll:
9) Make a prayer mini book:
10) Complete a prayer puzzle:
11) Find your way through a maze:
12) Make a prayer flip page. Fold the page in half. Cut the vertical lines so they fold over the image but can be lifted to reveal something about prayer.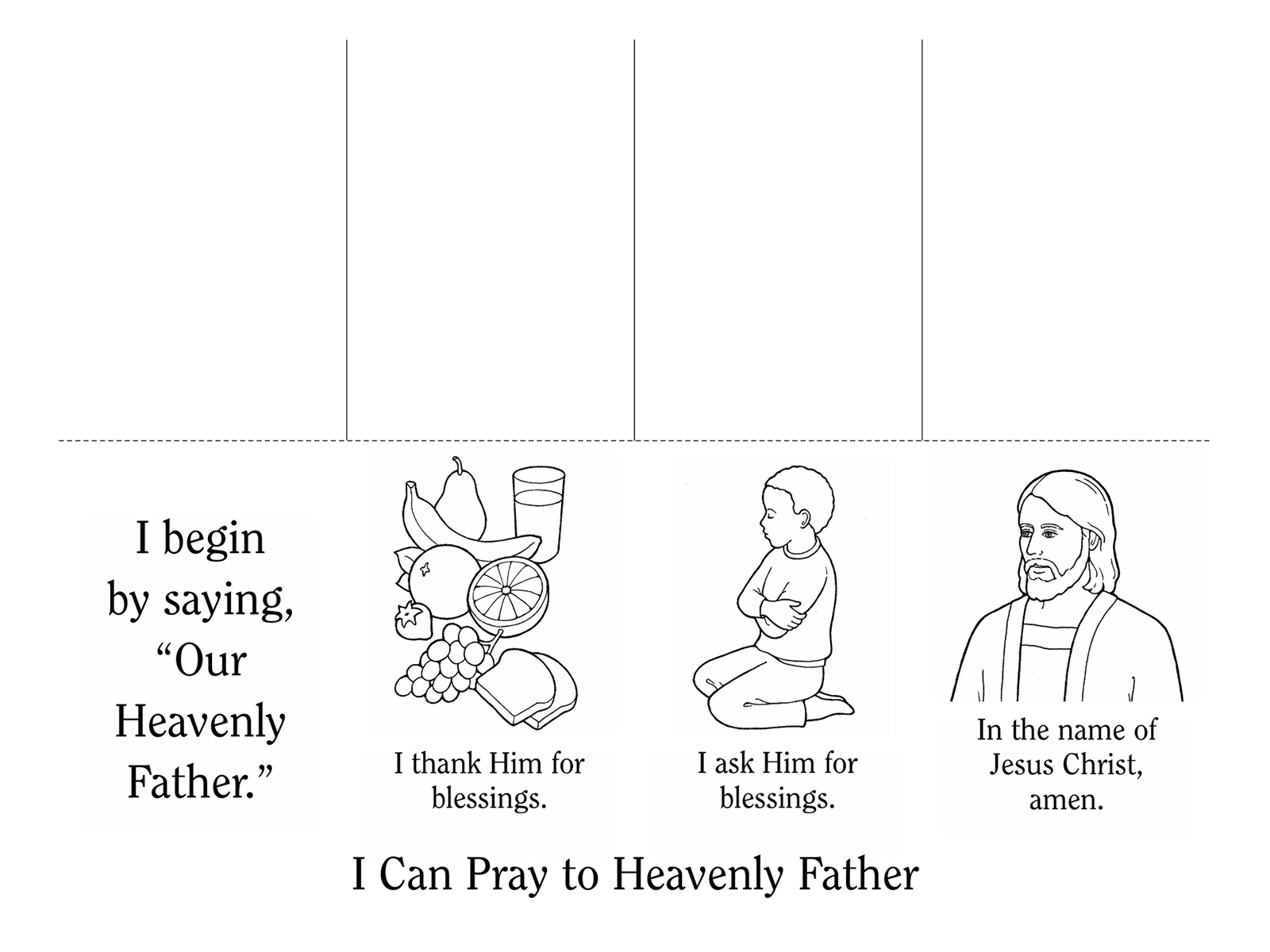 13) Read Enos Prays as a class:
14) What should I know about prayer?
Coloring pages: